Investigation of the Phenomenology and Impact of Spontaneous and Direct After-Death Communications
Acording to the Evelyn Elsaesser website:
Thanks to a generous grant from a prestigious foundation, an ambitious multilingual project entitled Investigation of the phenomenology and impact of perceived spontaneous and direct After-Death Communications (ADCs) was conducted from February 2018 to January 2020.
Introduction by Dr. Athena Drewes
"The most dramatic one was the evening a friend fell and was in the hospital when he appeared in front of my desk where I was working. I looked up and saw Charles. I spoke first and said "Charles?" He responded: "Do you know what happened to me?" I explained that he had fallen and hurt his head and was in the hospital. Then I said, "Charles, if you are here talking to me, you must have died." He said, "I just wanted to know what happened to me" and he disappeared.
Click the button to open PDF file in new browser tab.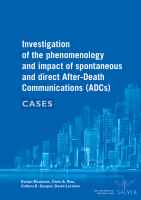 Bereaved Individuals have for centuries reported contacts with the spirit of a deceased loved one. But what do these experiences look like and does contact help us in our grieving?
Researchers are now studying the impact of spontaneous and direct After-Death Communications (ADCs). These spontaneous and direct after-death communication occurs when bereaved persons unexpectedly perceive a deceased person through the senses of sight, hearing, smell or touch (not through a Medium).
These experiences can occur during sleep, when falling asleep or waking up. Often these communications convey a message that is reassuring and can help the bereaved resolve grief.
Researchers Elsaesser, Roe & Cooper (2020) using questionnaires, collected the largest multilingual, international, collection of over 1,000 responses. The results will amaze you!
© Copyright Evelyn Elsaesser, PDF courtesy of Evelyn Elsaesser, Link to website